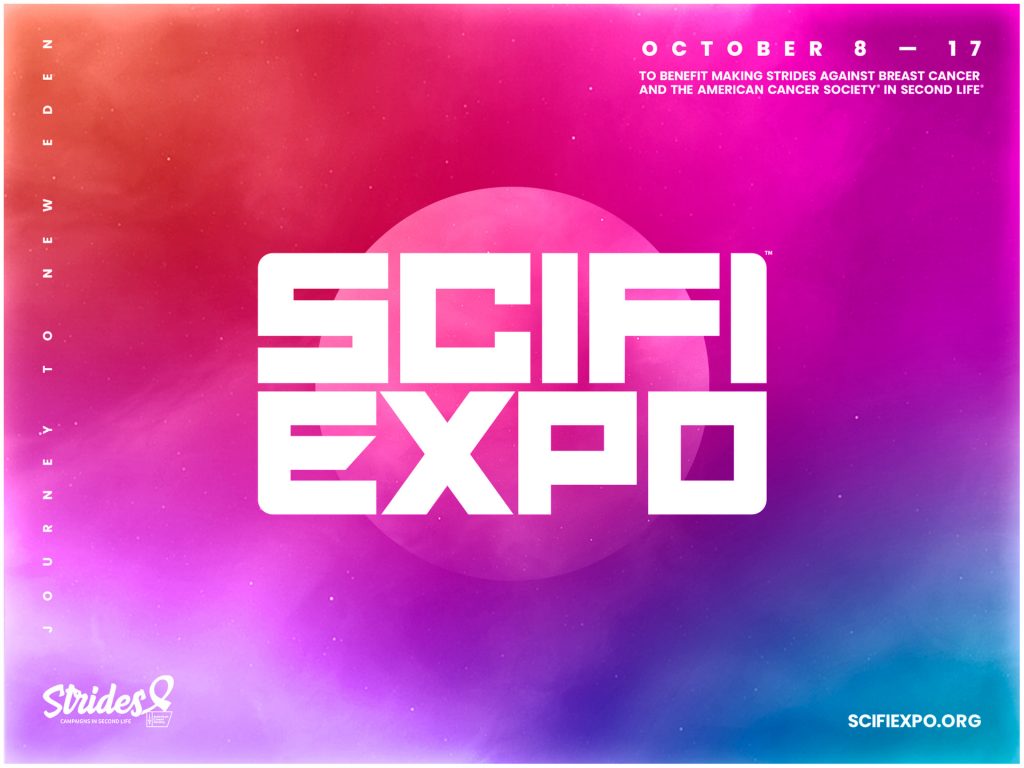 Arius City is Sim Partner at the 2021 SciFi Expo
To Benefit Making Strides Against Breast Cancer and The American Cancer Society.
From October 8 to October 17, 2021!
The 2021 SciFi Expo: Journey to New Eden
The 2021 SciFi Expo is bringing the science fiction community together to benefit Making Strides Against Breast Cancer and the American Cancer Society in Second Life. From Friday, October 8 to Sunday, October 17 come experience New Eden, featuring the biggest sci fi designers and shops, live performances, roleplaying events, and so much more, as the community comes together to support finding a cure.
This year's journey takes us to the old frontier world of 'New Eden', a major trading hub on an ancient terraformed forest world. Come and help to unlock the secrets and mysteries of the world's deep ancient past!
The 2021 SciFi Expo is made possible by the generous support of all of our Sponsors and Exhibitors, which you can learn more about on our website. For more information and how to register as a Sponsor or Exhibitor visit our 
exhibitors information page
.
Our team is incredibly excited and cannot wait for you to experience all that New Eden has to offer! The 2021 SciFi Expo will be open to the public from October 8 to October 17. The SLurl  will be available on our website on opening day.
Are you or a loved one battling cancer? Find out how many ways the American Cancer Society is there to help.
Visit
 cancer.org
 or call (US) 800-ACS-2345.
Members of the press who want to cover the Expo can contact 
info@scifiexpo.org
 for more information.
About the SciFi Expo
The SciFi Expo is an event in Second Life held to benefit Making Strides Against Breast Cancer, a campaign sponsored by the American Cancer Society. SciFi Expo's mission is to help unite the residents and community together against a common cause. This great cause is to help bring awareness and donations to support finding a cure for Breast Cancer. The mission also strives to help the American Cancer Society fund breakthrough research about breast cancer, provide free information and to support people in reducing the risk of breast cancer and finding methods early to prevent complicated treatments. 
Learn more
About the American Cancer Society
The American Cancer Society is a global grassroots force of 2.5 million volunteers saving lives and fighting for every birthday threatened by every cancer in every community. As the largest voluntary health organization, the Society's efforts have contributed to a 22 percent decline in cancer death rates in the U.S. since 1991, and a 50 percent drop in smoking rates. Thanks in part to our progress; 14.5 million Americans who have had cancer and countless more who have avoided it will celebrate more birthdays this year. We're determined to finish the fight against cancer. We're finding cures as the nation's  largest private, not-for-profit investor in cancer research, ensuring people facing cancer have the help they need and continuing the fight for access to quality health care, lifesaving screenings, clean air, and more. For more information, to get help, or to join the fight, call us anytime, day or night, at 1-800-227-2345 or visit
 cancer.org
.
About Making Strides Against Breast Cancer
Making Strides Against Breast Cancer is the American Cancer Society's premier event to raise awareness and funds to fight breast cancer. But it's more than just the name of a walk – it describes the amazing progress we're making together to defeat this disease. Since 1993, 4 million walkers have raised more than $280 million through Making Strides. In 2007 alone, nearly 500,000 walkers across the country collected more than $50 million to help fight breast cancer. 
Learn more